Create A Digital Course Outline In 1 Minute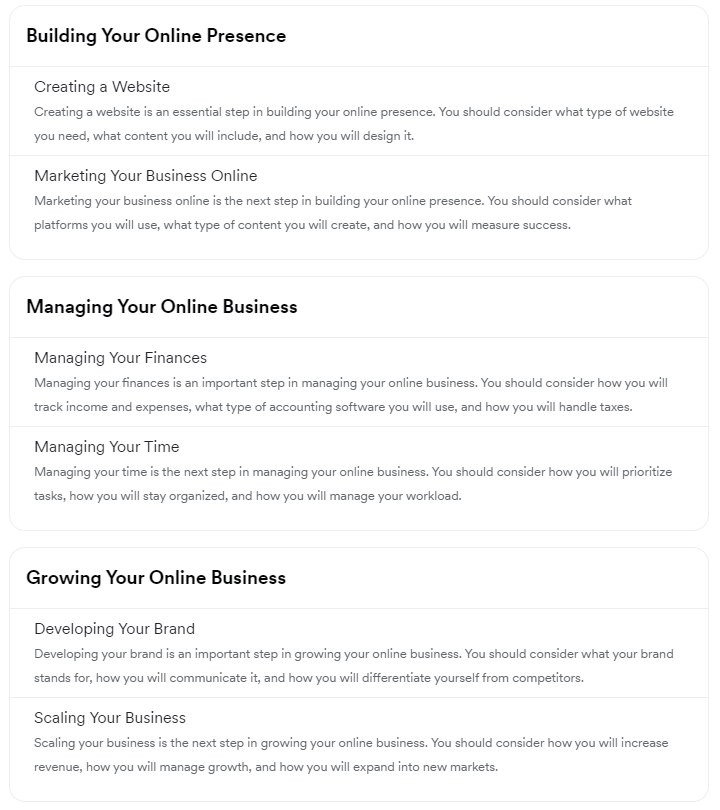 Have you ever had a good idea and wanted to monetize it? Today I'll share some tips and best practices on taking that knowledge and turn it into a digital course that can provide some extra income in 2023!
I am a HUGE advocate of Digital Courses and they have changed my life both as a consumer and a creator.
In my first 'real' online business back in 2005 selling automotive racing products, I learned the ropes of selling online, but eventually the business crashed because I was selling merchandise that anyone can sell, thus it became a race to the bottom on margins.
The cool thing about monetizing your knowledge is it can be scaled infinitely and your personal brand is something that can't be taken away.
Yes there will be others teaching what you know, but not in your unique way, also you can cultivate a following and provide solutions (or expose problems) that your audience might not know they had.
Here is a really cool AI tool that can help you take a topic and structure out a digital course in one minute. I had fun playing with it and it looks great, give it a try, you can nail down a great course outline so quickly!
But hold on a sec, don't go guns blazing on launching a course until you validate your offer!
So many people create courses without checking to see if it's something their audience needs. You can use social media to test offers before you roll them out, just like Danny Langloss and I did before launching our $150 LinkedIn Advantage course for Leaders, Speakers and Consultants.
Ask, ask, ask your audience what they need, you can create a poll or survey that can help you find out if they want what you have to offer.
Cultivate an audience and then create an offer to serve them.
Another reason why people fail to sell their knowledge or offers is they haven't dialed in their niche or the audience.
If your audience is comprised of everyone, then its hard to create an offer that can serve all of them and you can't charge as much.
"I can charge $99-997 for a course on productivity & organization. If I do 'How to stay organized as a busy professional'...i can charge $997-1497. If I do 'How to stay organized as a Medical Sales Professional so I can generate Million Dollar deals'...I can charge $10k for that." Sales Legend Marcus Chan (Best Selling Author of 6 Figure Sales Secrets).
If you have your niche dialed, you can create content that attracts the right people to engage, you can survey them for what they need and create offers to help them solve those pain points.
For help on Nailing Your Niche go here.
When you have the right audience, the right offer and the right traffic you can then use digital courses to create various price points to serve your audience and meet them where they are at.
Free and low ticket offers ($0-299): don't be deceived by thinking that low ticket offers don't make you money. They are a great way to help people step into your world without dropping big sums of money, also you can automate the process and help people without you being there.
Create something that is irresistible to start building more relationships! Do a low cost workshop, boot camp or challenge!
Free and low ticket offers aren't always about making money, they can be the start of a beautiful and long term relationship and they can help fund things like getting a VA or paying for apps.
Mid ticket offers ($300-$2k): use Mid Ticket offers to go deeper on the topics you want to teach. Think about a course with live calls or 1x1 calls to give more personalization to your courses.
High Ticket $2k and up: Low and Mid Ticket offers are excellent ways to find people who want your high ticket services. There are some people who will want your personalized help and willing to pay for that.
I LOVE having my own coaches to teach me and jump in my business. I'm more than willing to pay for high ticket coaches to get the personal approach that I want, and you will have people that want that as well!
Getting started with digital courses:
The best investment I've made in my business is starting with the Kajabi Platform, it's my number one recommendation for anyone who wants to be serious about building an online information based business.
Not only can you create courses but you can create events, do email marketing, 1x1 clients, schedule appointments, create lead magnets, host your paid or free podcast, build sales funnels, collect payments and more.
It really is the ultimate solution for coaches, course creators and consultants to monetize their knowledge.
If you want to take advantage of a free 30 day trial, use the link below. You can even pay for Kajabi by challenging yourself to launch something during the 30 day trial!
Check out the latest episode of Mindset Hackers Podcast where I've talked abou how we have been programmed to make success harder than it needs to be, plus I've shared 'why' we perceive things to be hard on Spotify and Apple!
It's true that some of the greatest things in life take a certain amount of time and a certain amount of energy, but you can enjoy it along the way!